12 DEC 2014 | DEEP MEDi Xmas SKANK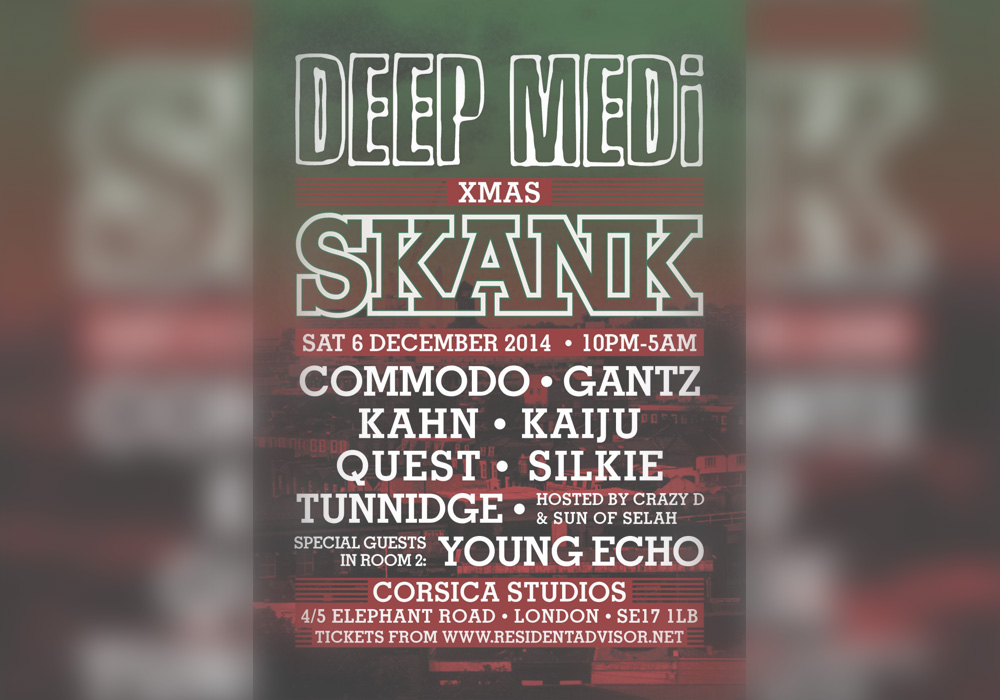 Deep Medi boss and DMZ co-founder Mark 'Mala' Lawrence is bringing the DEEP MEDi Xmas Skank to Berlin.
Infected by the basslines of Jungle while growning up he took it upon himself to redefine the boundaries of electronic music longside other pioneers from South London and beyond starting in the early 2000nds.
On 12th December he is flying over to Berlin with some of the best producers and DJs on his label to celebrate Christmas with us at YAAM this winter of 2014.

Come and join us!
Line-Up

彡 MALA (DEEP MEDi)
彡 COMMODO (DEEP MEDi)
彡 COMPA | dubs only (DEEP MEDi)
彡 KAIJU (DEEP MEDi)
彡 ORSON (Version)
彡 UTA (Twen FM)
彡 DJ MFK (Urban Mutations)
彡 SBZN (Through My Speakers)
彡 SARAH FARINA (Through My Speakers)

Hosted by CRAZY D & ATACTIC
Fb event www.facebook.com/events/424867391002235
Follow DEEP MEDi on Facebook and www.deepmedi.com
Artists
MALA

Mala is one half of Digital Mystikz, South London's finest purveyors of meditational bass weight. Dubstep originator, producer, DJ, as well as label owner of DEEP MEDi and promoter, Mala unleashes a dense concentration of dubwise good vibrations that would make Jah Shaka and Aba Shanti equally proud. The infamous FWD>> nights is where he cut his teeth, penning tracks with pal Coki like "Pathwayz" as well as "Neverland" and "Anti War Dub" on his own. Nowadays the Mystikz' label DMZ has become a figurehead imprint for this thing called dubstep and the sound has spread further and wider than (probably) ever imagined. In 2011 it took Mala to Cuba, where he worked with local musicians to record his very first solo LP, realigning the dubstep movement tastefully within sound system culture.
Releases on DEEP MEDi: medi004, medi010, medi069, medi077, medi7001
COMPA

First coming to attention through his appearance on GetDarker back in 2011, Mancunian producer Compa rose to prominence through his infamous self-released bootleg of dancehall don Mavado's 'Dem A Talk'. Now signed to Mala's scene leading Deep Medi imprint, he's standing tall as one of the few names continuing to push quality Dubstep. With his minimalist, sub-heavy sound, Compa has travelled the world as an ambassador for the genre that he loves.

Releases on DEEP MEDi: medi075
KAIJU

Kaiju have been on a roll; buoyed along by a rapt fanbase as well as the big-hitting likes of Kryptic Minds and Youngsta, the first thing that most won't notice is the almost imperceptibly high benchmark they set for themselves. With a simple formula of 'less is more' - excepting, of course, when it comes to the sub-bass - the duo's productions serve to further the myth that simple music is simple music; with so few components to each tune, each one that is present has to absolutely earn its place. And earn their place, in a Kaiju beat at least, they do: the result is chasms of space for that characteristic, tape-warm sub-bass to groove in and through.
2014 has got off to a flying start for Kaiju. Having spent most of the winter hibernating in the studio, the duo have just exclusively signed to Mala's label Deep Medi.

Releases on DEEP MEDi: forthcoming release very soon
UTA (Twen FM)

Uta is a long time Berlin DJ and radio presenter on notorious ex-pirate station TwenFM. She also co-runs the "Rec Room", a party series which has gained massive popularity among fans of UK-influenced bass music in Berlin. Unlike some other DJs, Uta has always been a listener. Being part of the city's underground scene since its heydey in the 1990s, she has become an expert in classic House and Techno. As a DJ, Uta knows how to rock a crowd with her killer technique and excellent taste. She is a proper old-school individualist who loves digging in second hand shops as well as checking the latest bits in House, Techno, UK Bass and judging them by her own ear.

Facebook
Soundcloud
DJ MFK (Urban Mutations)

DJ MFK is part of the multi-stylistic bass crew Urban Mutations in Berlin and hosts a monthly Berlin Community Radio show and frequent club nights with Jwen and Powder.
SARAH FARINA (Through My Speakers)

Over the last couple of years, Sarah Farina grew to become one of Berlin's main tastemakers in underground bass. Sarah is well reccognized throughout Germany and noticed by artists and music heads on each and every continent. Not sticking to any specific genre, she defines the music she plays as rainbowbass.
Sarah Farina is one of the original founders of Through My Speakers and supported some of the most respected of her bass music contemporaries, both locally and abroad. She contributed to Rinse.fm's Hyperdub show with Kode9 and Scratcha DVA in London 2013 and shared the DJ booth with artists like Loefah, Disclosure, Gaslampkiller, Lunice and many many more.
Her two contributions to Boiler Room Berlin in 2013 and 2014 were well-recieved by BR's usually very critical audience and paved her way even more for promising gigs in the future.

Facebook
Soundcloud